A guest post by Shivaike Shah and Fran Amewudah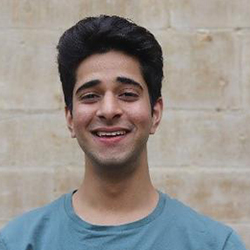 Oxford alumni Shivaike Shah (left) and Fran Amewudah (right) reflect on their 2018 all-BAME production of Euripides' Medea and its subsequent development in a TORCH/APGRD project (see bottom of page for details of this project).

Listen to an accompanying podcast episode featuring Avery Willis Hoffman, Shivaike Shah and Fran Amewudah >>
Our 2018 Medea at the Keble O'Reilly theatre focused on increasing access to Oxford's often unrepresentative theatre scene. In casting the show, our focus was on encouraging new talent from a variety of creative disciplines. We wanted as many students from diverse backgrounds to get involved as possible! Through Medea, our goal was to facilitate a collaborative space for actors, musicians, poets and dancers alike, to come together and make something really great. After several days of auditions, we ended up with an incredible cast of spoken word artists, first-time actors, Bollywood dancers, gospel singers and more! The majority of our cast of 16 had never worked in theatre before. In fact, six out of the seven actors in the Chorus had never performed on stage before, so it was an incredible joy to be able to work together and showcase their talents to the public in a space that has historically marginalised minority voices.
The play was manned by a crew of nearly thirty creatives of colour. Our policy was – if you want to get involved, come on in! We knew from experience how difficult it can be for newcomers to feel like they have a place behind the stage. Despite this, we were blown away by the wealth of talent, from incredible sound and lighting designers, make-up artists who brilliantly captured the essence of our show, to inventive and resourceful set designers who managed to get over 15 trees on our set!
Our focus for our revival of Medea hasn't changed. Our main aim is to attract new talent from a variety of creative backgrounds, and to celebrate diverse cultures through collaboration. We recognise how important it is to increase representation both on and off stage, so we also want to encourage young diverse talent to get involved in crew roles, both technical and creative. Through our production company, Khameleon, we are committed to creating internships and shadowing opportunities for aspiring crew members.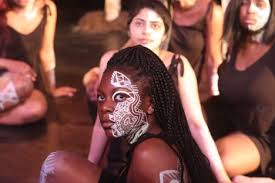 Now is an important time for us all to reflect on our perspectives. We, as creatives, are privileged to have been able to use this time to reflect and plan for the future, in ways that so many of our key workers have not. We have a responsibility to use the tools at our disposal to make a meaningful impact on society. Having seen the disproportionate effects of Covid-19 on BAME communities, this has been a traumatic time of reckoning, and we hope to use the arts as an avenue through which to channel and explore our realities and stories in a safe environment. We hope that our new Medea will pave the way for systemic change, through the artists we work with and the communities we uplift through our work. Now, more than ever, society needs theatre that brings forward creatives of the future.
Find out more
To find out more about the continuing development of the BAME-Medea into the TORCH/APGRD project - with primary investigator, Professor Fiona Macintosh; partnering with Dr Rosa Andújar (KCL) and Dr Avery Willis Hoffman - see the TORCH website.
To explore the performance history of Euripides' Medea - through digitised archival material, video clips, and bespoke interviews with academics and creatives - see the APGRD's free interactive/multimedia ebook on Medea