A guest post by Peter Brown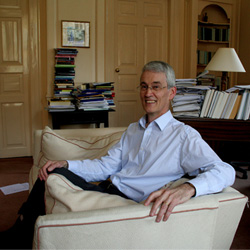 In this post, Peter Brown (long-standing member of the APGRD Advisory Board) discovers a lost piece of music written for a production of Sophocles' Antigone while sorting through the contents of his piano stool. Peter is an Emeritus Fellow at Trinity College, Oxford who has published extensively on Greek and Roman comedy.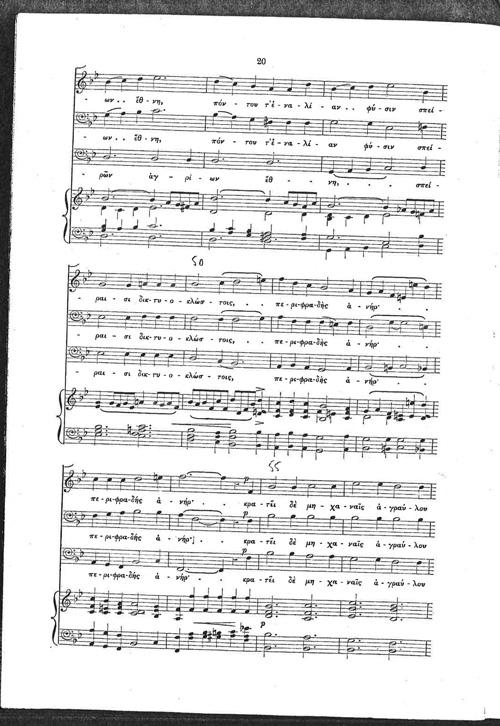 At home I have a piano stool with a hinged seat into which I generally throw any odd pieces of music that I don't know quite what else to do with.  One Sunday morning a few years ago I decided the time had come to sort out all this accumulated stuff, and one of the first things I found there was something I had no memory of ever having seen before: a booklet of 32 pages, saying on the front 'Wimbledon School, Surrey. Wednesday, April 11, 1888'.  This turned out to be the programme for a concert, or entertainment, of which Part I consisted of a performance of the opening scenes of the Antigoneof Sophocles, and Part II was a mixture of musical performances and Scenes from Dickens.
For Part I there was a small orchestra conducted by J.E. German, Esq. They began by playing some of Mendelssohn's music for the Antigone, and I assume that the actors then spoke in ancient Greek, because the programme includes an English translation by E.H. Plumptre (unacknowledged) of the full text of the opening scenes (presumably to enable the audience to follow), except that, at the point in the play where the chorus first enters, the choral ode has been replaced by a March, with no words, of which a piano reduction is printed at the appropriate point in the programme, filling six pages. After the next scene there is another choral ode, and this one has been set to music and is printed in the programme, again in a piano reduction: it is set for three-part men's chorus and fills fourteen pages. The text is printed in the original Greek, and the whole thing is followed in the programme by Plumptre's translation of the words of the choral ode. There was then a Tableau, and that was the end of Part I.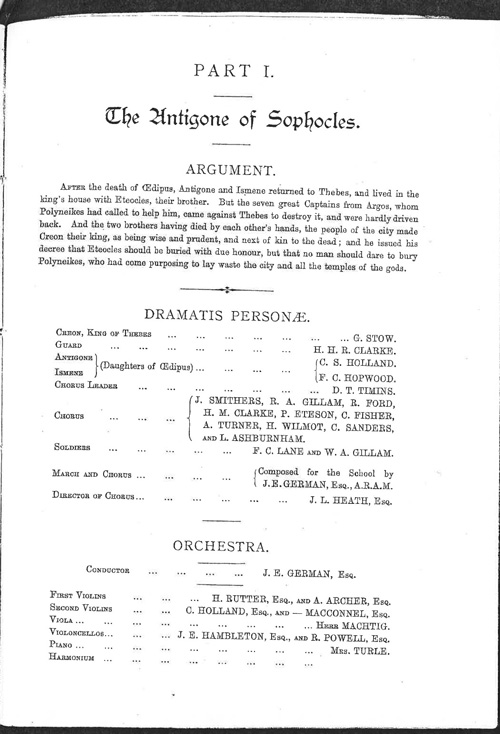 Right: image from the inside of the programme; APGRD Collections. Reproduced by kind permission of Peter Brown.
At the beginning of the programme, it says: 'March and Chorus: Composed for the School by J.E. German, Esq., A.R.A.M.'  I suspected that this might be Edward German, so I went immediately to my computer to consult Grove Music Online, and there I had a further surprise in store for me: if you look up Edward German in Grove Music Online, in the list of his works, under 'Incidental music', the first thing you come to is 'Antigone (Sophocles), c1885, ?pf, vv (c1886) untraced'. 
I do not know why two dates are given, but it was the last word that excited me: without ever having heard of it, I had evidently traced this lost piece of music to my piano stool.  (One now consults Oxford Music Online, where this music is still [on 20 April, 2018] said to be 'untraced'.) Edward German (1862-1936) is now largely forgotten, but he had a very successful career and was knighted in 1928. He was best known for his operettas Merrie England and Tom Jones and was widely regarded as the heir to Sullivan, though their styles are rather different. He became Musical Director at the Globe Theatre in 1888 (the year of his music for Antigone), and it was his theatre music that first brought him to public attention.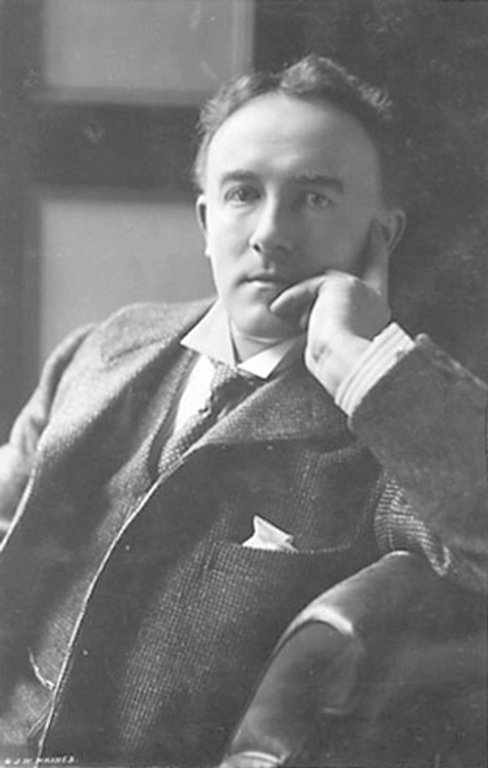 Left: Sir Edward German, image from Wikimedia Commons CC-0.
When I was able to get into the Bodleian Library the following day, and consult the biographies of German by W.H. Scott (1932) and Brian Rees (1986, reprinted 2003), it did not take me long to establish that he had indeed been teaching at Wimbledon School in 1888: at this point he was in his mid-twenties, struggling to make his career after giving up his job as sub-professor at the Royal Academy the previous summer. But there was yet another surprise: this music was not actually performed in 1888, nor at any other time, as far as anyone knows. To quote from Brian Rees (p.52): 'The classical master at Wimbledon was Barry Pain who was a well-known author.' He and German combined to produce the Antigone of Sophocles. That stern and unflinching drama is not one that immediately suggests German's musical style, and as events turned out, an epidemic among the boys led to a cancellation of the performance. One list of compositions in the German papers, not in his own hand, refers to a march and chorus from Antigone published by Novello.  There is no copy in the British Library and Novello have no record of publication.' In fact the programme in my piano stool was printed by Novello, Ewer and Co. (though probably not published by them), but it looks to me as if it is a proof, not the final version, because there are a few gaps where names of performers are to be inserted, and also some mistakes, particularly in the printing of the Greek. So maybe there never was a final version printed off; maybe there never were more than one or two proof copies.
Wimbledon School had been founded in 1860 by the Revd John Matthew Brackenbury as a 'crammers' for the Military Colleges of Woolwich and Sandhurst. It had enjoyed some success, but Brackenbury had had to retire for health reasons in 1882, and the school had gone downhill (probably closing altogether in 1885) until it was revived in 1887 under the headmastership of the Revd Edward Turle; he kept it going for a further five years, but the property was then acquired by the English Province of the Society of Jesus, who established a new school on the site in 1893. That school, Wimbledon College, remains there to this day. (For most of the information in this paragraph I am indebted to the opening chapter of Anthony Poole, A history of Wimbledon College, Wimbledon College, 1992; I am also grateful for help from Mr Charles Toase of the Wimbledon Society.)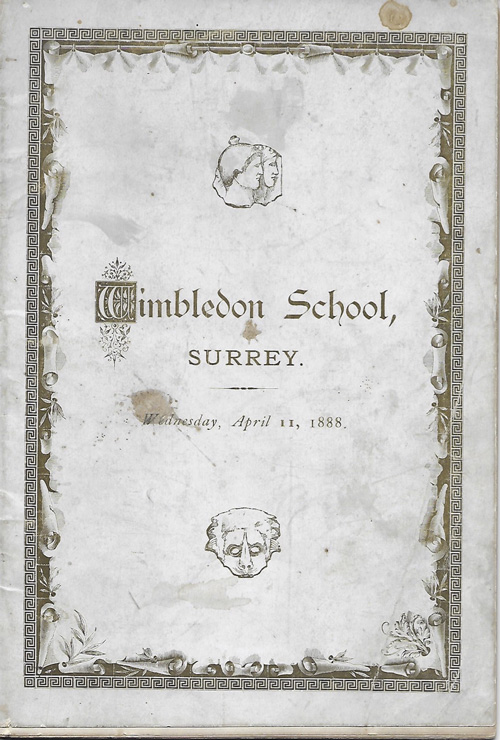 Left: Front cover of the programme, APGRD Collections; image reproduced by kind permission of Peter Brown.
The Classics teacher Barry Pain subsequently had a very successful career as a writer of comic stories (see John D. Cloy, Muscular mirth: Barry Pain and the new Humor (Victoria, B.C., 2003)) – his novel Eliza (1900) was particularly successful and was more recently (2006) serialised on BBC Radio 4. Pain had studied Classics at Cambridge from 1883 to 1886, and no doubt he had been inspired by the recently inaugurated tradition of the Cambridge Greek Play: Stanford had written music for the two most recent productions, the Eumenides of Aeschylus in 1885 and the Oedipus Tyrannus of Sophocles in 1887. But the Cambridge Play was only one of several signs of interest in the performance of Greek plays at the time, and school performances were not a novelty (see Edith Hall and Fiona Macintosh, Greek Tragedy and the British Theatre 1660-1914 (Oxford, 2005), chapters 15 and 16).
The ode that German set is one of the most famous choral odes in Greek tragedy, in which the singers reflect on all the remarkable achievements and resourcefulness of mankind but end with the warning that men will flourish only if they follow the laws of the earth and the justice of the gods. Originally, in fifth-century Athens, it was sung to the accompaniment of a reed-pipe, the aulos. As far as we know, the performers sang in unison throughout – the music has not survived: we have only the words. The ode is in four stanzas, of which the first two balance each other in their rhythmical structure, and the second two also balance each other, with a different rhythmical structure from the first two. German has not reproduced this structure, though the last fifteen bars of the first two stanzas are almost identical, and both these passages are followed by a sort of refrain that repeats the very opening words of the ode – that is not Sophocles at all, but it does serve to bring out that they are separate stanzas. In the case of the second pair of stanzas, German runs them together into one big unit. He changes key half way through the third stanza; and he changes the rhythm from 6/4 to 4/2 nine bars later, on the words 'Only from death no escape will he devise'. There are then further key-changes in the fourth stanza, before he returns to the original key for a triumphant repetition of his refrain.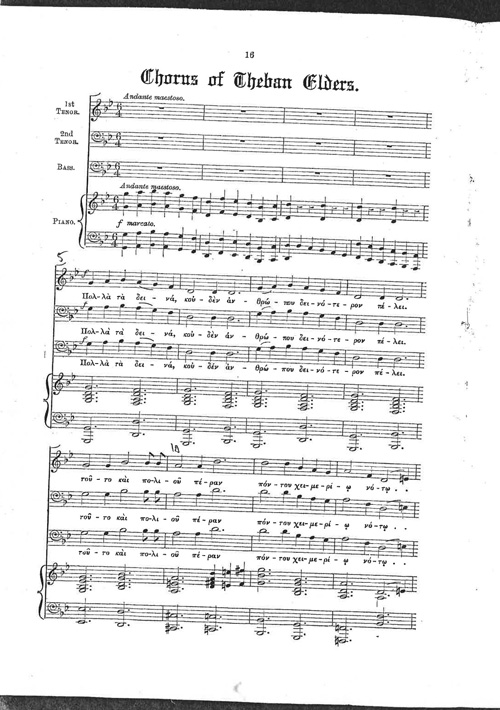 Right: opening page of the 'Chorus of Theban Elders' score from inside the programme; APGRD Collections. Image reproduced by kind permission of Peter Brown.  
I think I know how this music got into my piano stool. German had a close friend in the 1880s called W. B. George, who was a cousin of my father's. My father and his sisters inherited the entire George estate in the early 1950s after the deaths of George and his sisters. So W.B. George must somehow have acquired this programme from German (who did indeed give him signed copies of the sheet music of several of his shorter compositions), my father must have acquired it as part of the George estate, and I must have found it among my parents' possessions when my mother died twenty years ago, taken it home, put it in my piano stool, and promptly forgotten all about it.
The music was finally presented to the world on 22 September 2007, at the Thirtieth Anniversary Festival of the Sir Arthur Sullivan Society at the Royal Agricultural College, Cirencester, performed by members of Charles Court Opera with piano accompaniment. For the Chorus they used a translation written by me to match the rhythms of German's setting.  On 1 March 2008 a further performance took place in the Hall of Trinity College, Oxford, this time with a small orchestra and five singers performing the Chorus in the original Greek.  The March had been orchestrated by Grahame Lee, the Chorus by Robin Gordon-Powell.  The orchestration of the March was also played by the Cornwall String Orchestra at various venues in the summer of 2008.  The Cirencester and Oxford performances are included in the APGRD database.
Find out more
In memoriam
We are sad to announce the death of our dear friend and colleague, Peter Brown, who wisely and unstintingly guided and supported the APGRD from the early days of the project until his death on 30 November 2018.
We remain indebted to Peter not just for his leadership of the APGRD's research into opera and music but also for his key role on our Advisory Board where his wit, warmth and enormous generosity of spirit was always in evidence and ever appreciated by us all.