Welcome
The APGRD is a research project based in the Classics Centre at the University of Oxford. It investigates the performance of ancient texts in any medium and any period, from Greek tragedy to Roman epic, from stage to screen, from antiquity to the present day.
A world-renowned international research centre, the APGRD has been at the forefront of classical reception studies for over fifteen years and is a pioneer in classical performance reception. For more information visit the About us section, or to learn about our archives and resources visit Research collections.
APGRD News
Book launch: Atlantide 6 and Greek Fragments in Postmodern Frames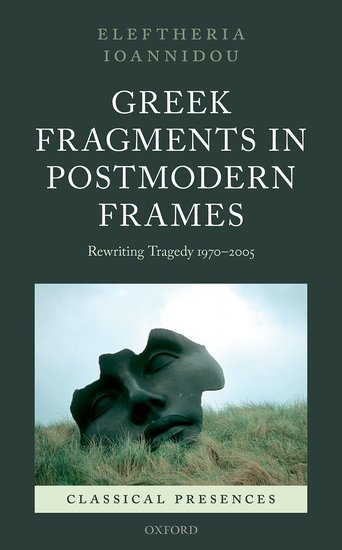 The APGRD is delighted to be celebrating the launch of a special edition of the online journal Atlantide, Violence tragique et guerres antiques au miroir du théâtre et du cinéma, and of Eleftheria Ioannidou's Greek Fragments in Postmodern Frames: Rewriting Tragedy 1970-2005. Join us for a drinks reception in the Ioannou Centre Common Room on Thursday 30 March at 6.30pm. See our Events page for further details.
Call for Papers : 17th Annual Joint Postgraduate Symposium
The 17th Annual APGRD / RHUL Joint Postgraduate Symposium on the Performance of Ancient Drama will take place on Monday 26 June (at the Ioannou Centre, University of Oxford) and Tuesday 27 June (at Royal Holloway, Egham). This year's theme will be: 'movement and limits in the theory and practice of ancient drama.' Abstracts of papers should be sent by 31 March 2017. Follow this link for the full Call For Papers 
Artist in Residence: Marie-Louise Crawley
The APGRD is very pleased to welcome choreographer and dance artist Marie-Louise Crawley as our Artist in Residence from January to June 2017. Marie-Louise is investigating the role the mask plays in performance, and considering the mask in her own choreographic work. See our Artists in Residence page for further details. She has been putting her research into practice with performances at the Ashmolean Museum of Art and Archaeology; details of further performances will be available soon.
Photo: © Christian Hunt
APGRD Free Public Lectures 2017
We are absolutely delighted to be welcoming the Institute of Classical Studies' Webster Fellow 2016-17, Professor Karen Bassi, on Monday 15 May at 2.15pm.

Interactive/Multimedia e-books
T
he APGRD is delighted to have received an AHRC Follow-On Funding Award  to produce two interactive/multimedia e-books.
The e-books, on the performance histories of Medea and Agamemnon, draw on our existing published research, considerably enhanced by our photographic, audio and video archival material as well as newly commissioned interviews and performances from scholars and theatre practitioners.  
The ebooks are free to download and are available either as an iBook for Mac or as an ebook for all other devices. Visit Medea, a performance history for more information and to download the first book.