Medea, a performance history is an interactive/multimedia ebook about the production history of Euripides' Medea. The ebook draws on a unique collection of archival material and research at the APGRD and uses images, film, unique interviews and digital objects to tell the story of a play that has inspired countless interpretations, onstage and onscreen, in dance, drama and opera across the globe from antiquity to the present.
DOWNLOAD the iBook (for Apple devices)
The iBook version is available for free on Apple Books either as a full-length ebook, or three quicker-to-download instalments comprised of two related chapters from the original. Use the following links to download them now:
Medea, a performance history (full version)
Medea, a performance history: Black Sea & Empire: Black Sea explores Medea's roots and backstory, and how these have been used in the theatre to challenge perceptions of her as an infamous child-killer; the second chapter, Empire, looks at the ways in which Medea's story has been read as part of Europe's colonial history, and how Medea's position as an exiled immigrant has made her a symbol of ethnic persecution and racial oppression.
Medea, a performance history: Witch & Woman: Witch investigates the way in which, from the sixteenth century onwards, productions have explored Medea's divine ancestry and her links to magic and witchcraft, not only as a source of personal power but also as a site of female persecution; the second chapter, Woman, focuses on productions that have sought to explore the rights, roles and restrictions of women in society, interrogate what it means to be female, and consider how Medea speaks to notions of 'female transgression'.
Medea, a performance history: Mind & Performer: Mind asks whether Medea's murder of her own children is an act of insanity, frenzy, or calculated brutality. What does it cost an actor to perform such a role? And how have different productions tried to stage the controversial and contested issue of Medea's mental state? The second chapter, Performer, explores the ways in which Euripides' Medea, like Shakespeare's Hamlet, is a consummate performer within her own play, inhabiting numerous disparate roles through the course of the tragedy. Like Hamlet, the role is a star-vehicle for actors, and our ebook concludes with a chronological image gallery offering a "visual roll-call" of actors who have come to define the role of Medea.
*Apple Books states that to read the iBook(s) you must have an iPad with Books 2 and iOS 5 or later, or an iPhone with iOS 8.4 or later, or a Mac with OS X 10.9 or later. However, we have discovered that, for Mac, the hyperlinks designed to move you across different sections/chapters and the animated map may require OS X 10.10 or later in order to work properly. If you are using older systems you may need to update your software.
DOWNLOAD the eBook (for non-Apple devices)
An EPUB version of the original, full-length ebook for all other devices, is free to download directly here: DOWNLOAD EBOOK
The EPUB3 version, which due to the limitations of the software has fewer interactive features than the iBook, should be compatible with most standard ebook-readers. The two most popular ebook readers, which can both be downloaded for free, are Readium (an app which operates inside Google Chrome) and Adobe Digital Editions 4.5 (older versions of ADE will need to be upgraded to view APGRD ebooks). Once you have an appropriate ebook-reader installed, download the ePub file via the download link above and then open with your preferred reader. Our thanks to Chris Jennings for converting our iBook into an EPUB.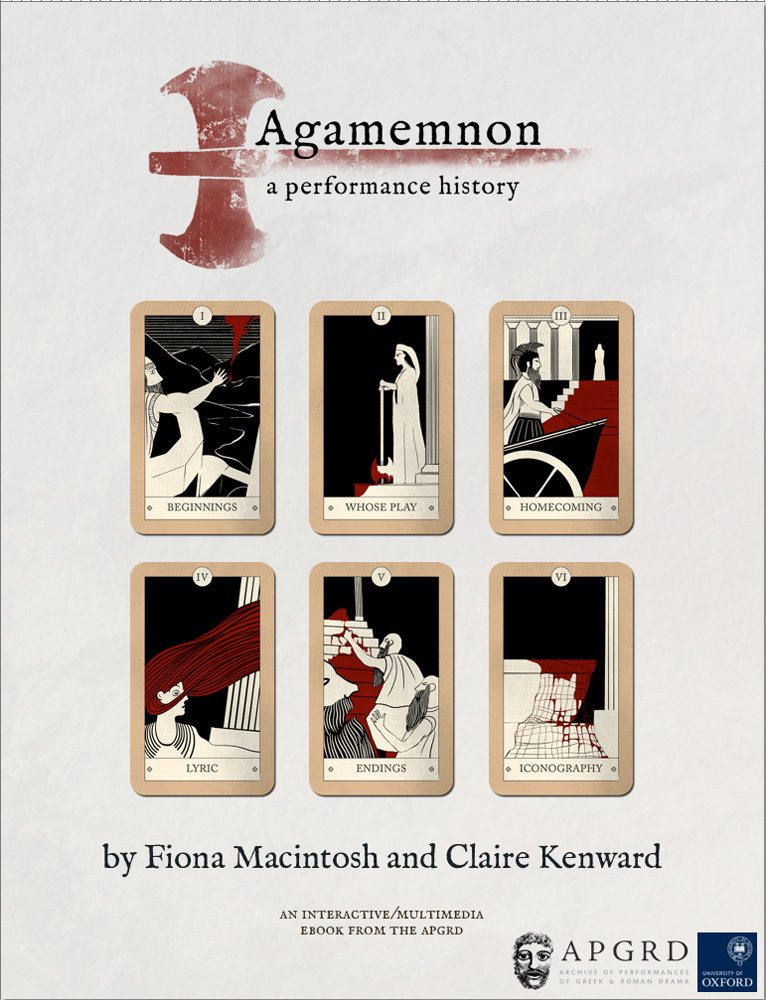 Please see Agamemnon, a performance history for more on our second interactive/multimedia ebook.
Your Feedback:
Love our ebooks? Think they could be improved? Have you used either of them for teaching, research or creative work, or read them for pleasure? We would love to hear from you!
If you have any feedback, on either or both of our ebooks, we would be grateful if you could take the time to complete a short anonymous online survey. Alternatively, feel free to email us your thoughts at: