Visiting the Archive
We are open to visitors on Tuesdays, Wednesdays, and Thursdays - by appointment only. Please email the APGRD at least two weeks in advance to request an appointment.
Special arrangements may be possible if you cannot visit on these days, or if you are an overseas visitor requiring a longer block of time. However, please note that the archive is always closed to visitors on Fridays.
Closure Dates
Winter: closed from 18 December 2023 to 16 January 2024
Information on using the Archive
Researchers use the APGRD Study Room, located on the first floor of the Ioannou Centre for Classical and Byzantine Studies at 66 St Giles' Oxford, to consult our archive collections and reference library.
The reference library is free to browse in the Study Room but the archive collections are not - items must be requested in advance of any visit.
Instructions on how to search for and request archive material will be sent once an appointment is confirmed. 
Pens are not permitted for writing notes, pencils are provided.
3-Pin (UK) plug sockets are available for laptops, please bring your own international adaptors if needed. 
With the exception of bottled water, no food or drink is allowed in the Study Room.
Eduroam is the only WiFi available in the building.
The building is fully accessible - please let us know if we can be of any assistance.
Contact details
APGRD
Ioannou Centre for Classical and Byzantine Studies
University of Oxford
66 St Giles'
Oxford OX1 3LU

E-mail: apgrd@classics.ox.ac.uk
Telephone: +44 (0) 1865 288 210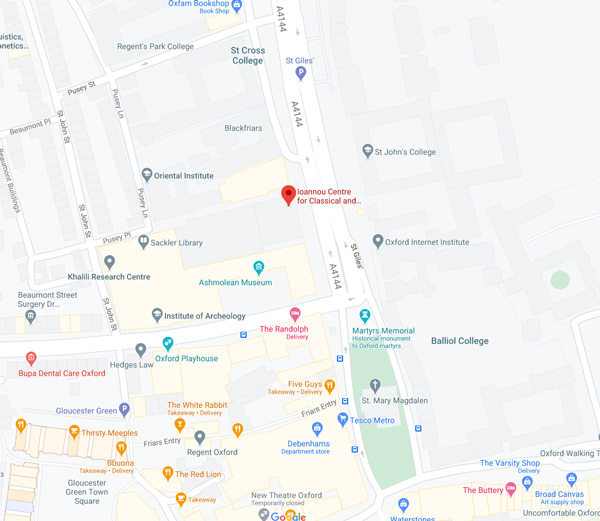 map showing the location of the Ioannou Centre for Classical and Byzantine Studies, links to Google Maps