In addition to its own programmes, the APGRD also collaborates in projects funded by TORCH (The Oxford Research Centre in the Humanities).
 
Penelope's Song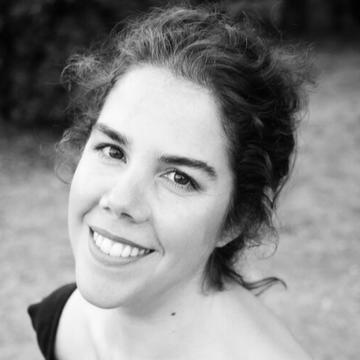 This project brings together creative artists and Oxford researchers to develop a new 90-minute opera based on Margaret Atwood's The Penelopiad (2005), by composer Dr Cheryl Frances-Hoad (right) and opera director/librettist Dr Jeanne Pansard-Besson (left). The opera, Penelope's Song, like Atwood's novella, turns the canonical narrative of Homer's Odyssey upside down: Odysseus' wife, Penelope, traditionally the model of marital fidelity and patient endurance, is given the chance to offer her side of the story from the underworld.
Penelope's Song: Beginning to write an Odyssey Opera
1pm (BST) 24 April 2023 - Keble College, Chaplain's Office (above Porters' Lodge)
Talk and discussion with free lunch: Cheryl Frances-Hoad and Jeanne Pansard-Besson are looking to share their initial thoughts, and also to receive input from those interested in the project. This is a virtually unique opportunity not only to find out about, but also to have an input to the shaping of an operatic response to the story of the Odyssey. Following the end of the session, there will be an opportunity for any who wish to have a further personal discussion about the project with the composer and librettist. All welcome, no charge, no need to book.
Development
Under the project's orignal title, The Alternative Queen's Speech, the first aria was commissioned in 2021 from the National Opera Studio (see below), and during a three-day residency in the Jacqueline du Pre Music Building at St Hilda's College (6-8 June 2022), the composer, director/librettist, two singers and a student actor, worked together with researchers from Classics, English, Modern Languages and Music, and students from the Cheney School, Oxford. A public lecture/performance was held on Wednesday 8 June 2022 at 5pm. A film of the project has been made by filmmaker and photographer, Rocio Chacon ('an opera in the making' - see below). The APGRD is joining KCL, Princeton, NYU, and the English National Opera in the next stage of the opera's development.  
Dancing with Apollo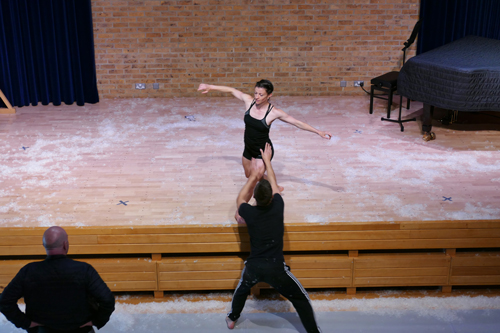 This TORCH/DANSOX/APGRD collaboration brings together a group of artists and Oxford researchers to begin research and development on a larger programme of dance, music and words: 'Dancing with Apollo'. Spitalfields Festival has commissioned a new score from composer Edmund Finnis (A Duet in the Dark) and the week's residency will take place in Oxford from 4-9 July in the Jacqueline du Pre Music Building at St Hilda's College. The premiere will take place in London on Sunday 11 July 2021, 5.30pm at King's Place, London.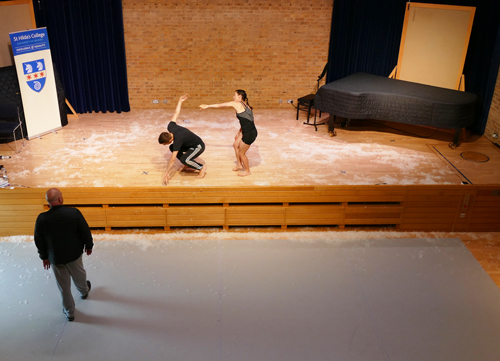 The residency will develop the first dance piece based on Cupid and Psyche, which was at the heart of the early modern quarrel between the ancients and the moderns and has particular resonance today with the ♯MeToo movement. The focus will also be on the myth's concern with touch, breath and lack of (fore-)sight - themes that speak especially powerfully to the dictates of the current pandemic.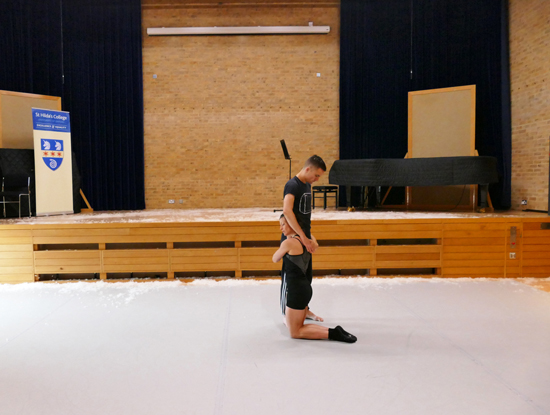 The residency involves celebrated choreographer, Kim Brandstrup and two professional dancers, Liam Riddick and Laurel Dalley-Smith, award-winning violinist, Sara Trickey and pianist, Ivana Gavric, with Marina Warner (All Souls) as dramaturg. Further academic engagement will come from Sue Jones (Director DANSOX), Fiona Macintosh (Director APGRD), and Stephen Harrison. A film of the workshop by distinguished film-maker Rocio Chacon will be made available following the residency.
Greek Tragedy: Masterclass on Film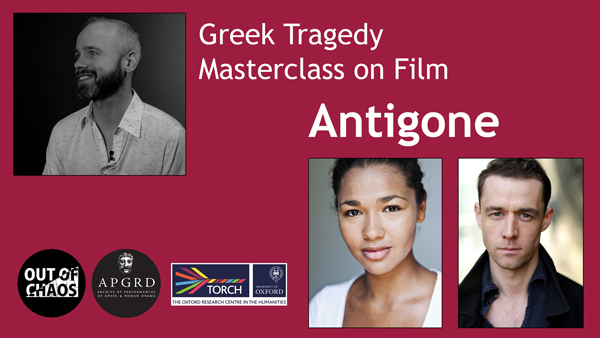 A TORCH-funded APGRD/Out of Chaos collaboration, 'Greek Tragedy – masterclasses on film' brings together international practitioners and experts to make a short film about Antigone aimed at online theatre audiences, as well as university and school students. The project builds on the success of Out of Chaos' Reading Greek Tragedy Online.
Two professional actors - Evelyn Miller and Tim Delap - will explore different interpretations with director Paul O'Mahony through discussion and in rehearsal, alongside talking heads from the creative industries and academia.
BAME Medea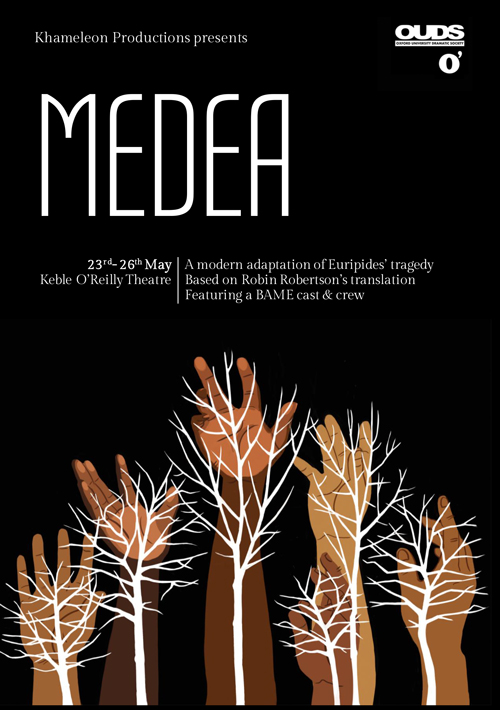 In May 2018 the Oxford University Drama Society (OUDS) performed a modern adaptation of Euripides' tragedy Medea with an all BAME cast and crew. Designed to tackle the lack of diverse theatre at Oxford University, the production was driven by the desire to bring numerous cultures and people of colour together to perform this powerful, classical story in a reimagined way, through original music, movement and spoken word. 
Chorus In Action
An interdisciplinary research initiative bringing together theatre practitioners, theatre historians and scholars of ancient Greek and Roman theatre in order to explore and forge new ways of staging the ancient chorus in theatre today. A parallel objective was to broaden scholarly conceptions of the dramatic potentials of the chorus both as an historical component the drama of Graeco-Roman antiquity and as a contemporary dramatic tool. This collaborative network
built on previous interconnections between the academy and the theatre by bringing together groups of academics and practitioners over a sustained period of time. 
Ancient Dance in Modern Dancers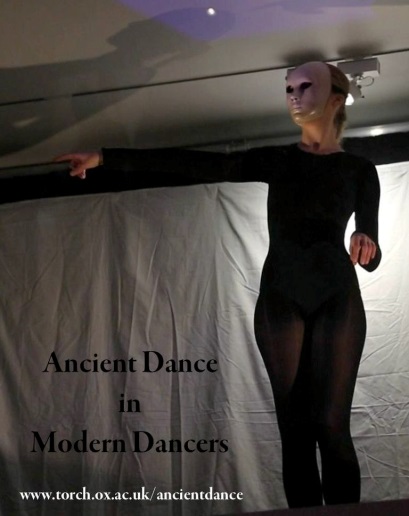 Ancient Dance in Modern Dancers was a collaborative practice-based study carried out by the APGRD in conjunction with the Institute of Social and Cultural Anthropology (ISCA), and funded by TORCH under the support scheme for interdisciplinary research networks. It ran a series of workshops involving professionally-trained dancers, investigating how they process selected stimulus materials en-route to creating a 'reconstructive' performance of the Roman dance form tragoedia saltata. It is not the final performance itself that is of interest so much as the cognitive responses of the participants. In this way, they hope to develop ways of articulating the knowledge derived from kinaesthetic engagement with ancient material.