Paul O'Mahony: 23-28 October 2017
Paul O'Mahony is artistic director of Out of Chaos theatre company with whom he created UNMYTHABLE, which won the Three Weeks Editors' Award in Edinburgh 2012. UNMYTHABLE has toured to more than 80 theaters across the UK, Europe, and New Zealand. He devised Out of Chaos, which in 2008 won Bilbao's ACT Festival and the 100° Festival in Berlin and he wrote Norsesome with co-founder Mike Tweddle. They recently toured a two-man Macbeth in the UK, a production which will be performing at Off the Map Festival in Utah in 2018.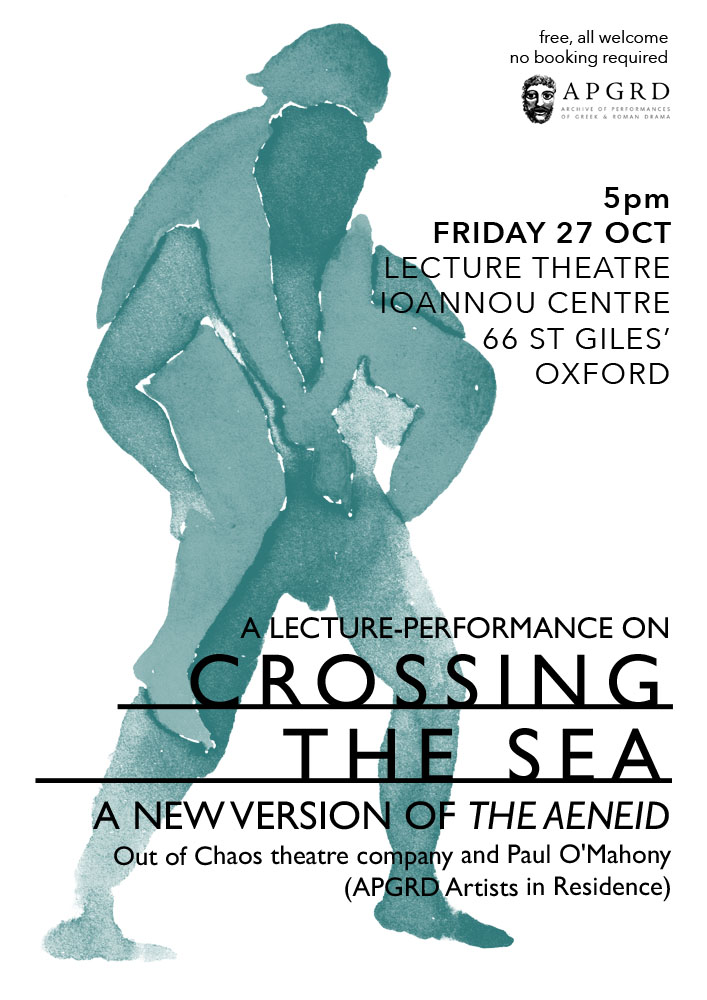 His residency with the APGRD is to research and develop Out of Chaos's next show Crossing the Sea which will be based on the Aeneid. Crossing the Sea will eventually include stories relating to the refugee crisis in Europe today, sharing the stories of those who have made similar journeys (and sacrifices) to Aeneas. However, this initial phase will be concentrating solely on Virgil's epic. The show will also be supported by The Playground Theatre in London and the Harvard's Center for Hellenic Studies. A lecture-performance on the initial development of Crossing the Sea will be delivered on Friday 27 October at 5pm in the Ioannou Centre Lecture Theatre, 66 St Giles, Oxford.
In 2011, Paul adapted three Greek tragedies to create The House of Atreus, which was produced at the Barbican in London. With Rob Castell, he recently completed his first full-length musical, Olympia based (once again!) on Greek mythology. In 2015, he directed Much Ado About Nothing in his role as Eminent Artist-in-residence at the University of Wyoming. Paul studied Classics at Oxford University where he twice won the Cawkwell Prize for Classics and was awarded an ancient history scholarship. He is Director of Outreach at Kallos Gallery in London. 
Paul's work as an actor has included stints with companies such as The Orange Tree Theatre, The Royal Shakespeare Company, and English Touring Opera, among many others. He has toured extensively in the United States with leading roles in Much Ado About Nothing, Richard III and A Midsummer Night's Dream. He is an Associate Director of Actors From The London Stage and was associate producer at Jermyn Street Theatre where his credits included All That Fall (starring Michael Gambon and Eileen Atkins), St John's Night and Mother Adam.
Marie-Louise Crawley: January-June 2017
Choreographer and dance artist, Marie-Louise Crawley was APGRD Artist in Residence for six months from January to June 2017. During her residency, Marie-Louise developed a site-specific dance piece, Likely Terpsichore? (Fragments), in the gallery spaces of the Ashmolean Museum of Art and Archaeology. Based on four female figures from Ovid's Metamorphoses - Galatea, Myrrha, Philomel and Medusa - Likely Terpischore? (Fragments) takes as its formal starting point the foundational principles of ancient pantomime - a solo, masked and narrative dance form. But within Crawley's choreographic practice the ancient sources are 're-imagined' in order to find new possibilities for twenty-first century performance. She has performed the piece on numerous occasions in the Museum. A film version is now available to watch online, and you can read Marie-Louise's reflections on the residency on the APGRD blog. Marie-Louise has a chapter in the APGRD's Epic Performances, from the middle ages into the twenty-first century (OUP 2018) entitled 'Epic Bodies: Filtering the Past and Embodying the Present – A Performer's Perspective'.
Photo: © Christian Hunt
Marie-Louise trained with Marcel Marceau in Paris and then joined Ariane Mnouchkine's Théâtre du Soleil, where she was an actor for seven years. In the UK she has worked with the Birmingham Opera Company, Marc Brew, Gary Clarke, Ballet Cymru, Rosie Kay Dance Company, and Avid for Ovid. Her recent choreography includes pieces for the Tate/ARTIST ROOMS Robert Therrien exhibition and a performance installation, The Forest. She lectures in Choreography and Performance at the University of Worcester and completed a PhD at the Centre for Dance Research (C-DaRE) at Coventry University. You can follow Marie-Louise on Twitter.
Iqbal Khan and Shomit Dutta: 8-14 January 2016
We are delighted to announce that the prestigious theatre director, Iqbal Khan and the playwright, Shomit Dutta will be Artists in Residence at the APGRD during the second week of January. Iqbal and Shomit will be sharing their expertise and working with students from both Oxford University's Classical Drama Society (OUCDS) and the Oxford University Drama Society (OUDS) on a new play set in the Trojan War, The Changing of the Guard. After only one intensive week of rehearsals, a full performance of the play - which refigures aspects of Homer, Aeschylus, Sophocles and Euripides, will be mounted on Wednesday 13 January in the O'Reilly Theatre, Keble College, at 7pm.
Cathy Marston: 1-5 June 2015
Choreographer Cathy Marston will be undertaking a week long residency at St Hilda's, 1-5 June 2015, with the support of the APGRD and DANSOX. Working with 2 professional dancers and a group of Oxford scholars, Cathy will spend the week choreographing to the ancient Greek text of Odyssey Book XI.  The aim of this project is to explore how the mythical content of Odysseus' visit to the underworld (the katabasis,) as well as its dactylic hexameter metrical form, can be translated into the medium of dance.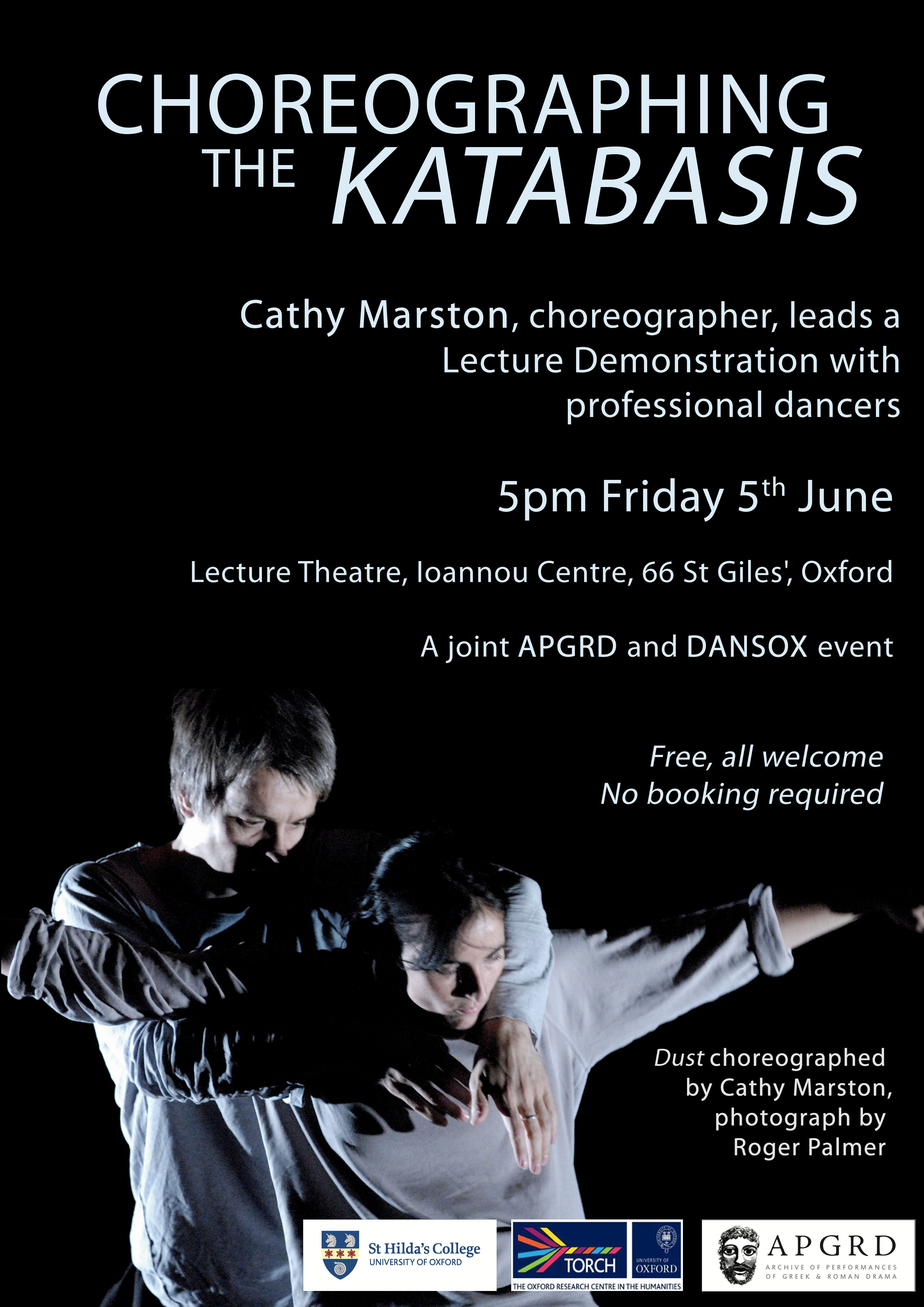 As the culmination of this week's residency there will be a lecture demonstration on June 5th at 5pm in the Lecture Theatre, Classics Centre, in which Marston will discuss her approaches to adapting works of literature into dance performances with APGRD Visiting Scholar Tom Sapsford. Cathy will then also show and discuss the material which she has developed throughout the course of the week with performances from professional dancers Charlotte Broom and Aaron Vickers.
CATHY MARSTON has made works for several major European ballet companies, was director of Bern Ballet Switzerland (2007-13), and most recently was a Clore Cultural Leadership Fellow (20013-14). Cathy has a long history of adapting literary texts into unusual and thoughtful dance adaptations and has previously made works based on Shakespeare (Romeo and Juliet, A Midsummer Night's Dream), Ibsen (Ghosts, A Doll's House), and Kundera (The Unbearable Lightness of Being) amongst others.
Struan Leslie: 3-7 Nov. 2014
We were delighted to welcome Struan Leslie, movement director/choreographer/director, as Artist in Residence with APGRD/DANSOX for the week of 3 November 2014. He gave two workshops during the course of his residency, one for the Oxford University Classical Drama Society (OUCDS) and one for Oxford University Drama Society (OUDS).
Struan has worked with the APGRD over many years, having previously conducted workshops under the Onassis Programme and having contributed a chapter on his work with choruses for the APGRD volume, The Ancient Dancer in the Modern World (2010). For more information, visit the TORCH website.