Marie-Louise Crawley: January-June 2017
The APGRD is delighted to welcome choreographer and dance artist Marie-Louise Crawley as Artist in Residence for six months from January to June 2017. Marie-Louise will be looking at the role the mask plays in performance, and considering the mask in her own choreographic work.
Photo: © Christian Hunt
Marie-Louise trained with Marcel Marceau at his mime and theatre school in Paris and then joined Ariane Mnouchkine's Théâtre du Soleil, where she was an actor for seven years. In the UK she has worked with the Birmingham Opera Company, Marc Brew, Gary Clarke, Ballet Cymru, Rosie Kay Dance Company, and Avid for Ovid. Her recent choreography includes pieces for the Tate/ARTIST ROOMS Robert Therrien exhibition and a performance installation, The Forest. She  lectures in Choreography and Performance at the University of Worcester and is also a PhD candidate at the Centre for Dance Research (C-DaRE) at Coventry University. More information about her doctoral research is available on the C-DaRE blog.
During her APGRD residency, Marie-Louise is putting her research on dance performance within archaeological museums into practice, through performances at the Ashmolean Museum of Art and Archaeology, Oxford. The first of these took place on Friday 3 March, as part of the Ashmolean's Supersonic LiveFriday event.
Follow Marie-Louise on Twitter: @CrawleyMLC
Iqbal Khan and Shomit Dutta: 8-14 January 2016
We are delighted to announce that the prestigious theatre director, Iqbal Khan and the playwright, Shomit Dutta will be Artists in Residence at the APGRD during the second week of January. Iqbal and Shomit will be sharing their expertise and working with students from both Oxford University's Classical Drama Society (OUCDS) and the Oxford University Drama Society (OUDS) on a new play set in the Trojan War, The Changing of the Guard. After only one intensive week of rehearsals, a full performance of the play - which refigures aspects of Homer, Aeschylus, Sophocles and Euripides, will be mounted on Wednesday 13 January in the O'Reilly Theatre, Keble College, at 7pm.
Cathy Marston: 1-5 June 2015
Choreographer Cathy Marston will be undertaking a week long residency at St Hilda's, 1-5 June 2015, with the support of the APGRD and DANSOX. Working with 2 professional dancers and a group of Oxford scholars, Cathy will spend the week choreographing to the ancient Greek text of Odyssey Book XI.  The aim of this project is to explore how the mythical content of Odysseus' visit to the underworld (the katabasis,) as well as its dactylic hexameter metrical form, can be translated into the medium of dance.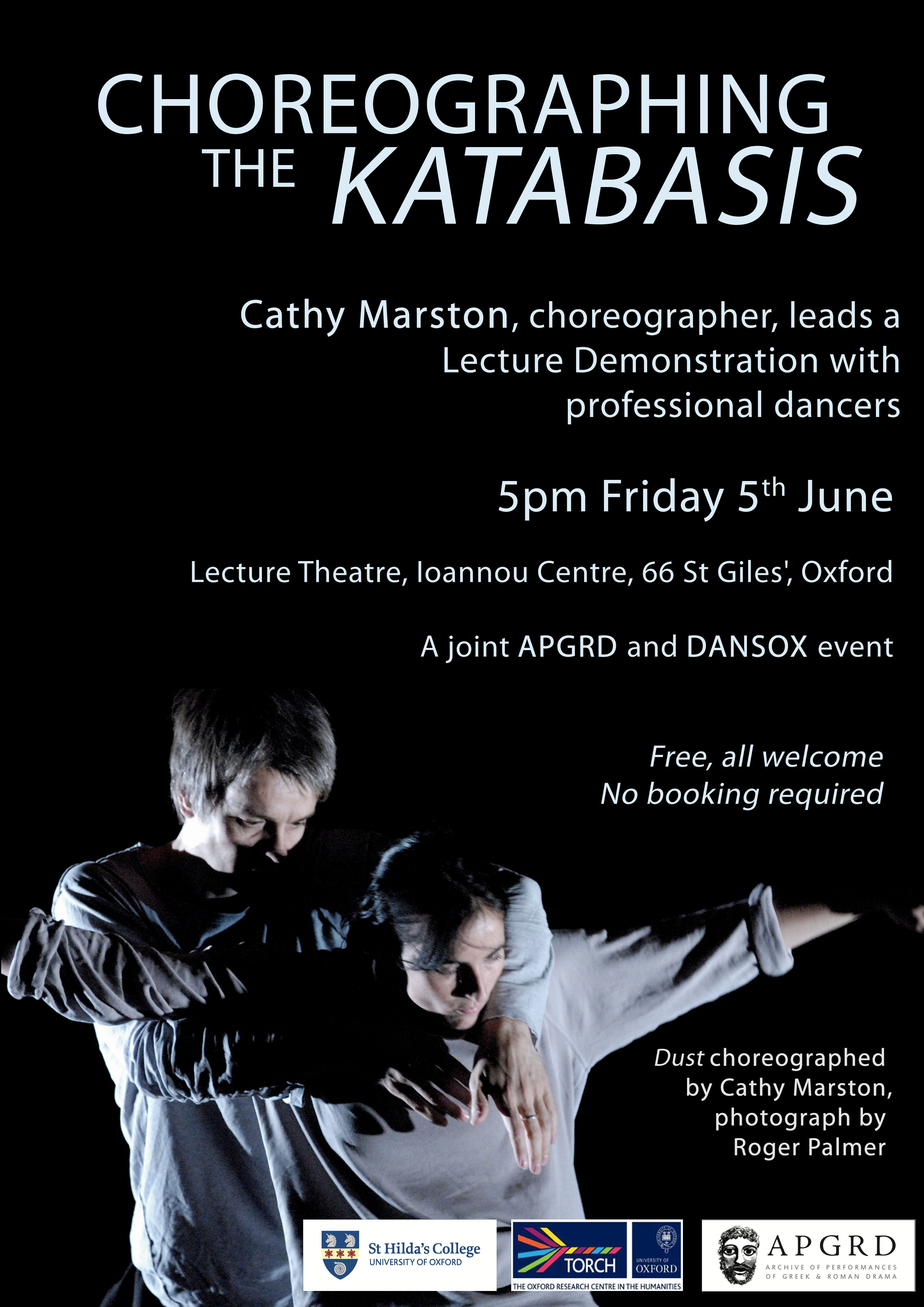 As the culmination of this week's residency there will be a lecture demonstration on June 5th at 5pm in the Lecture Theatre, Classics Centre, in which Marston will discuss her approaches to adapting works of literature into dance performances with APGRD Visiting Scholar Tom Sapsford. Cathy will then also show and discuss the material which she has developed throughout the course of the week with performances from professional dancers Charlotte Broom and Aaron Vickers.
CATHY MARSTON has made works for several major European ballet companies, was director of Bern Ballet Switzerland (2007-13), and most recently was a Clore Cultural Leadership Fellow (20013-14). Cathy has a long history of adapting literary texts into unusual and thoughtful dance adaptations and has previously made works based on Shakespeare (Romeo and Juliet, A Midsummer Night's Dream), Ibsen (Ghosts, A Doll's House), and Kundera (The Unbearable Lightness of Being) amongst others.
Struan Leslie: 3-7 Nov. 2014
We were delighted to welcome Struan Leslie, movement director/choreographer/director, as Artist in Residence with APGRD/DANSOX for the week of 3 November 2014. He gave two workshops during the course of his residency, one for the Oxford University Classical Drama Society (OUCDS) and one for Oxford University Drama Society (OUDS).
Struan has worked with the APGRD over many years, having previously conducted workshops under the Onassis Programme and having contributed a chapter on his work with choruses for the APGRD volume, The Ancient Dancer in the Modern World (2010). For more information, visit the TORCH website.