Monday, January 24, 2022 - 2:00pm
The third in the APGRD's series of readings, in collaboration with Live Canon, by contemporary poets engaging with the classics. Featuring: Tessa Foley, Ben Morgan, Nora Nadjarian, and Michelle Penn, and hosted by Helen Eastman (see below for poets' bios).
Event recording
Watch a recording of the event on YouTube: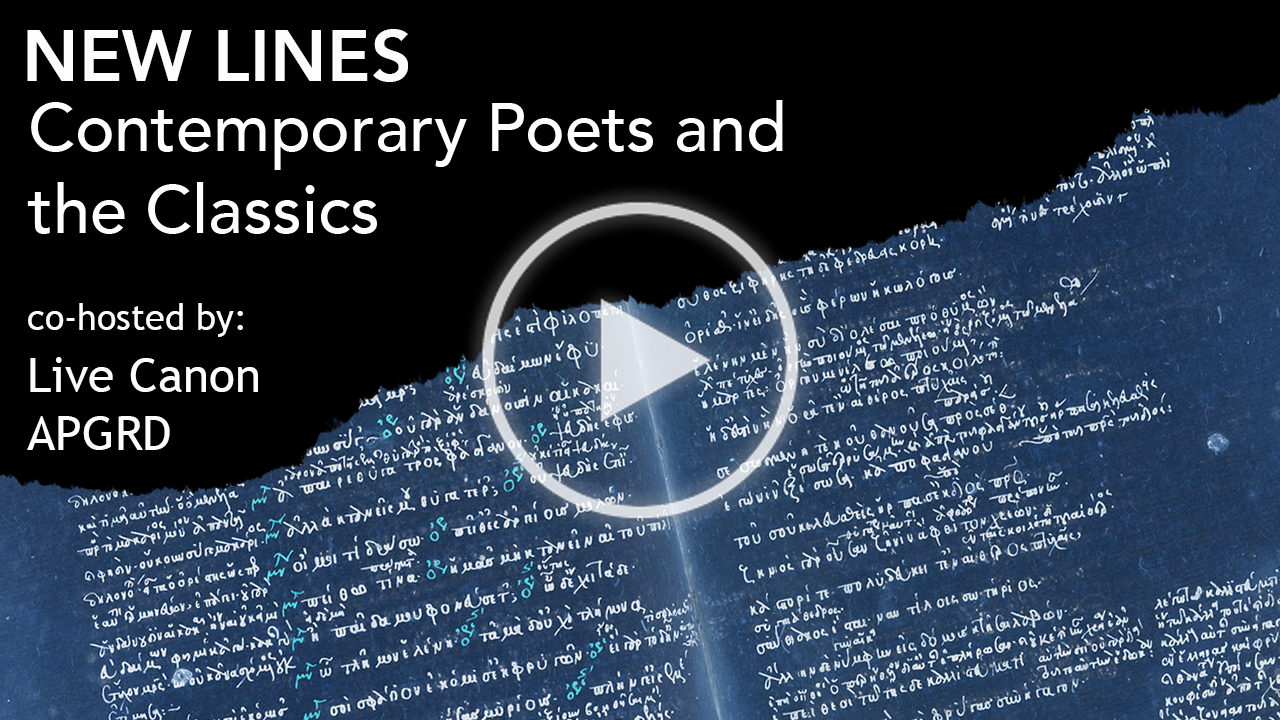 About the poets
Tessa Foley is a poet whose work explores feminism, sexuality and the rejection of normalcy. Her debut poetry collection Chalet Between Thick Ears was published and launched by Live Canon in November 2018 at the Poetry Cafe, Covent Garden and has inspired a series of Live Canon films. The same year, Tessa also self-published Garden illustrated by her sister, Anna Foley, to raise money for the Portsmouth Abuse and Rape Counselling Service where she volunteered for three years. Tessa's stunning second collection What Sort of Bird Are You? launched in lockdown. Glyn Maxwell wrote: "A few poets are original, a few are distinct, a handful are sad, some wise, some funny. I can't think of any recent English poet who's arrived with so much of this already blazing. Tessa Foley is a brilliant and unmistakable new poet, in whose hands the language is pure glistening matter."
Ben Morgan is a poet and writer from Oxford. His first poetry pamphlet, Medea in Corinth: Poems, Prayers, Letters and a Curse, is published by Poetry Salzburg. It retells the story of Medea through found texts, poems, dramatic interludes and songs. He has also published poetry widely in magazines and online. He has been a lecturer at a number of Oxford colleges and gave the APGRD Classics and English lecture in 2018.
Nora Nadjarian is an award-winning poet and writer from Cyprus. She has won prizes or been commended in international competitions, including the Plough Poetry Prize, the Orbis Poetry competition, Poetry on the Lake, and most recently in the Live Canon International Poetry Competition 2020. Her work was included, among others, in A River of Stories, an anthology of tales and poems from across the Commonwealth, Being Human (Bloodaxe Books, 2011), Capitals (Bloomsbury, 2017), The Stony Thursday Book (Ireland, 2018) and Europa 28 (Comma Press, 2020). She was chosen to represent Cyprus in the Hay Festival's Europa28: Visions for the Future in October 2020. Her latest book is the collection of short stories Selfie (Roman Books, 2017). She also facilitates creative writing workshops and has a poetry workshop forthcoming at the Cheltenham Poetry Festival in June 2021.
Michelle Penn's pamphlet, Self-portrait as a diviner, failing, won the 2018 Paper Swans Prize. Her book-length poem, Paper Crusade, is forthcoming in 2022 (Arachne Press). Recent poetry has appeared in PN Review, Tentacular, The Amsterdam Quarterly, The Rialto and The Interpreter's House. New work is forthcoming in The London Magazine, Bad Lilies and Stand. Michelle plans innovative poetry/art/music events in London as part of Corrupted Poetry. You can visit Michelle's website at michellepennwriter.com