Monday, March 8, 2021 - 2:00pm
In collaboration with Live Canon, a reading by contemporary poets engaging with the classics. Featuring: Fahad Al-Amoudi, Maia Elsner, Glyn Maxwell and Laura Theis, and hosted by Dr Helen Eastman. An APGRD public performance event streamed on our YouTube Channel, followed by Q&A.
Event Recording
You can watch the recording of this event on the APGRD's YouTube channel: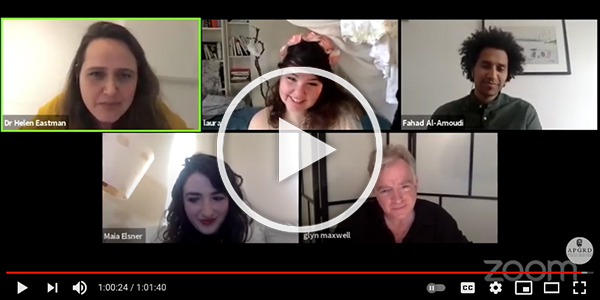 Fahad Al-Amoudi
Fahad Al-Amoudi is a poet of Ethiopian and Yemeni heritage based in London. His work has been published in Poetry London and the Macmillan anthology, 'Slam', edited by Nikita Gill. He has recently collaborated with Barbican Young Poets on English Heritage's Untold Stories: Unravelling the Threads project and has performed his poetry across the UK, Ethiopia and Sweden. Fahad is an alumnus of the inaugural Obsidian Foundation, a Roundhouse finalist and a member of Malika's Poetry Kitchen.
Maia Elsner
Maia Elsner was born in London to Mexican and Polish Jewish parents, and began writing poems in Massachusetts, USA. Her debut collection, Overrun by Wild Boars, will be published by flipped eye in Summer 2021. Recent poems have appeared in Poetry Ireland, Tinderbox and The Maine Review, among others. Her work has been anthologized in Un Nuevo Sol: British LatinX Writers (flipped eye, 2019), Field Notes on Survival (Bad Betty Press, 2020), Live Canon 2020 Anthology (Live Canon, 2020) and Crossing Lines: An Anthology of Immigrant Poetry (Broken Sleep Books, 2020). She is currently working on a collaborative poetry film project, and translating Latin American writers into English.
Glyn Maxwell
Glyn Maxwell is a poet, playwright, novelist, librettist and critic. His volumes of poetry include How the Hell Are You, The Breakage, Hide Now, and Pluto, all of which were shortlisted for either the Forward or T. S. Eliot Prizes, and The Nerve, which won the Geoffrey Faber Memorial Prize. His Selected Poems, One Thousand Nights and Counting, was published on both sides of the Atlantic in 2011. On Poetry, a guidebook for the general reader, was published by Oberon in 2012. The Spectator called it 'a modern classic' and The Guardian's Adam Newey described it as 'the best book about poetry I've ever read.'
Laura Theis
Laura Theis grew up in Germany, moved to the UK a decade ago, and writes poems, stories and songs in her second language. Her debut poetry collection 'how to extricate yourself' (Dempsey&Windle) was selected as the winner of the 2020 Brian Dempsey Memorial Prize by the Poetry Society's Paul McGrane. Her work has been widely anthologised, appears in a variety of literary journals from Strange Horizons to Mslexia, and was published in the UK, Ireland, Belgium, Germany, Canada and the U.S. An AM Heath Prize recipient, she has also won the Hammond House International Literary Award for Poetry and the 2020 Mogford Short Story Prize. She was highly commended for the 2020 Acumen Poetry Prize and the 2020 Geoff Stevens Memorial Poetry Prize, as well as a finalist in over twenty other international literary competitions including three consecutive Live Canon shortlistings.